More than a dream, Orlando City eyes on becoming soccer Mecca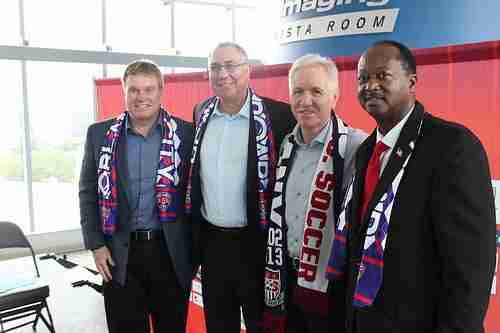 ORLANDO — There's more to Orlando City SC's dream of bringing a Major League Soccer franchise to Central Florida.
With the United States Women's National Team due to host the Brazilian Women's national team on Nov. 10 at the Florida Citrus Bowl, OCSC President Phil Rawlins believes this is just the beginning of bringing marquee soccer matches to the City Beautiful.
"It's just a part of the promise that we've made to the community to bring games like this, marquee games," Rawlins told reporters during Tuesday's U.S. Soccer press conference at the Amway Center. "I don't think it's a coincidence that the federation [U.S. Soccer Federation] is now looking at Orlando again, it's 14 years since the women's game was here, and it's great for them coming back to Orlando.
"This is just a great sign of what we can do in the community, bringing games like this on a regular basis," Rawlins added. "It will be great to see games like this played on a soccer-specific-stadium with a grass field and 20,000 seats."
Rawlins told reporters that dialogue with the United States Soccer Federation about bringing the national team to play in Orlando began after the USL Pro championship match, which drew 21,000 fans to the Citrus Bowl.
Despite Central Florida being home to professional soccer for the last three years, the last time the U.S. Women's soccer team played in Orlando was back in 1999. Fast forward 14 years, Rawlins has lead an army of front office and on-field soldiers to prove their case on why Orlando is a different market than other surrounding areas.
"It's a good opportunity to showcase that Central Florida is really a Mecca for soccer and we've got a great soccer community," said Rawlins. "Not just in Central Florida, we know this can be a hub for the whole southeastern United States and even internationally."
According to a report from visitflorida.com, 49.6 million people visited Florida, most of which were Brazilian that had a destination point to Central Florida, which has been a hot-bed and has seen an increasing rise in the Brazilian community.
Add the popularity that the U.S. women's national team has with a Brazilian women's side that is no stranger to international success, ranking No. 4 in the FIFA Rankings, and put them to play in an area that co-exists amongst them is another reason why Rawlins talked to the U.S. Soccer Federation on bringing a match to Orlando.
"This is a perfect soccer market. The game all over the country is booming, but the game in Florida is booming," said U.S. women's soccer head coach Tom Sermanni. "Orlando City, since they've come here, they have been extremely successful."
On the social media front, the Facebook page "Orlando City Brasil" has currently 127,942 likes, seeing a ravage increase since majority investor and Brazilian native Flavio Augusto Da Silva came into the Orlando City scene early in 2013.
With the Orange County Board of Commissioners set to vote next week, October 22, on the final funding for a downtown soccer stadium, the Orlando City president said that the feeling is cautious and optimistic, but building a facility that will serve for multi-purpose sports and generate revenue is vital for the community and an opportunity that can't be missed.