Painting UCF pink, racing to disseminate awareness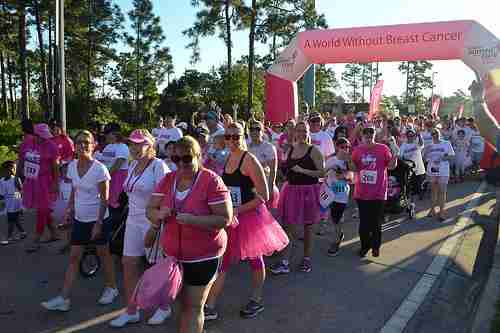 ORLANDO, Fla. – The University of Central Florida was awash in pink Oct. 6 when crowds gathered for the 17th annual Susan G. Komen ' Race for the Cure.'  The race began at 8 AM with the runners starting off. Shortly after, those that chose to walk made their way across the entrance point and labored toward the finish line.
 The look of the participants was as varied as were their stories.  Some were survivors – like Beth Peter – while others were just there for moral support or to be part of a good cause.
"This is my first year," said Peter, a breast cancer survivor who had participated in the race. "It feels really good. I couldn't stop crying, but it's been really awesome."
Families, couples and clusters of individuals were met with celebratory cheers from onlookers as they crossed the finish line. A look of accomplishment was easily visible on many faces as they arrived. For many, this was just one more challenge that they had overcome.
Donna Salzman – one of those standing at the finish line as the participants came across – had made the trip from Weston, Florida. She was there to support her sister-in-law, who had been diagnosed with breast cancer and was taking part in this year's race.
"I recently had surgery on my foot or else I would be participating," said Salzman. "My husband and kids are walking for me."
After a hard-earned finish in the hot Florida sun, participants made their way over to a row of tables manned by volunteers offering bottles of water, bananas, apple slices and many other items.  Dunkin Donuts and Wawa were among the sponsors offering samples.
After a cooling off period, breast cancer survivors were urged to stop by the 'survivors' table to be given a medal and a rose, while everyone else made their way into the Bright House Networks Stadium for the 'Survivor Celebration Ceremony.'
After everyone settled into the bleachers, FOX 35 anchor Amy Kaufeldt introduced the parade of survivors – a line of pink shirts, pink tutus and pink wigs that took their place in the bleachers directly facing the stage.
The celebration started by recognizing those that had survived breast cancer.  As the countdown narrowed to those that had survived one year or less, the number of survivors recognized increased, as did the applause.
The enthusiasm was palpable.  High fives and congratulations were traded regularly.  Then the mood became somber for a moment as those that had lost the battle with cancer were remembered in a moment of silence.
After the winners of the race were recognized on stage, a few key speakers discussed their own battle and triumph over breast cancer, expressing solidarity with other survivors that was defined, not by their affliction, but by their choice to push forward and overcome it.
"I've been involved in breast cancer volunteering for approximately 16 years," said Jacqueline Moore. "We have people out here walking and they're on their medication.  They still come out even though they have their chemo.  They're trying to fight a great cause and they never give up."
For more information on how to donate to the Susan G. Komen foundation, visit their website at www.komencentralflorida.org