Miguel Cotto KOs his opponent, in boxing's return to Orlando
ORLANDO — Miguel Cotto got back to his winning ways on Saturday night, as he defeated Delvin Rodriguez via a 3rd round TKO in what will forever be known as the first professional boxing event at the Amway Center.
The 32-year old out of Caguas, Puerto Rico was making his Orlando debut on Saturday, in front of a majority pro-Cotto crowd. Orlando is like a second home to Cotto, who trained in his own gym in Central Florida up until he decided to train with Freddie Roach in Los Angeles.
"Being here in front of this crowd, everybody cheering my name, makes me feel good," said Cotto about fighting in front of the Orlando crowd. "It makes me feel like people love my work, people love what I'm doing."
Cotto hurt Rodriguez late in the 2nd round, but Rodriguez was saved by the bell. Rodriguez would go down in the 3rd round, leading to the referee stopping the fight early.
"I was a little dazed," said Rodriguez about the early stoppage. "But I dropped and the referee stopped the fight and that's it and he gave me no chance to get up at all."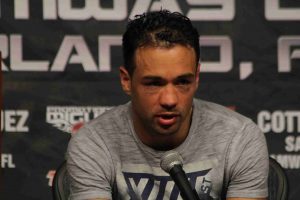 A title was also on the line on Saturday in the co-main event between Lightweights Andrey Klimov and Terence Crawford.
Crawford took the fight easily by a unanimous decision where all judges gave him the fight by a score of 100-90.
In the undercard Jayson Velez defeated Dat Nguyen via unanimous decision in what could have easily been the fight of the night.
All-in-all Puerto Rican fighters went 5-0 on Saturday, featuring wins from Felix Verdejo, Jorge Melendez and Orlando's own Moises Carrasquillo, Jr.
Not all the fighters on Saturday's card had a chance to get in the ring, as the Patrick Boozer vs. Clarence Booth fight was canceled due to a Florida law which states that no fights shall start after 12 a.m.
Full results from Saturday's card below:
Main Event: Miguel Cotto defeats Delvin Rodriguez (TKO — 2:46 3rd Round)
NABO Lightweight title: Terence Crawford defeats Andrey Klimov (Unanimous Decision — (100-90, 100-90, 100-90)
Jayson Velez defeats Dat Nguyen (Unanimous Decision — 98-91, 96-93, 96-93)
Jorge Melendez defeats Jamaal Davis (TKO — 2:29 2nd Round)
Felix Verdejo defeats Gary Eyer (TKO — 2:53 2nd Round)
Moises Carrasquillo defeats Steven Chadwick (Unanimous Decision — 40-46, 40-36, 40-36)
Lamar Charlton vs. Ricky Tomlinson (Split-Draw — 39-37, 37-39, 38-38)
Patrick Boozer vs. Clarence Booth (Canceled)