Former Valencia student set to fight at Bellator 100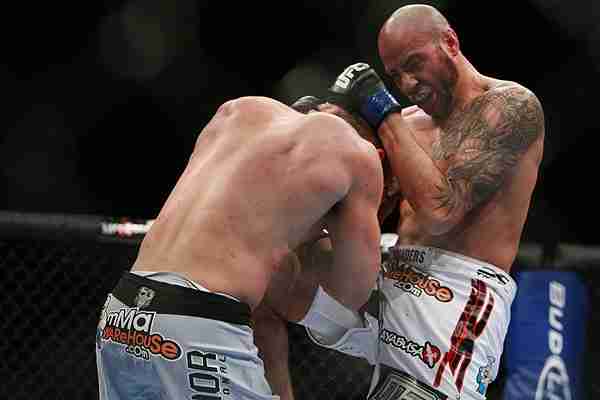 Ben "Killa B" Saunders journey to the Bellator Season eight Welterweight Tournament final has been long and hard, but the 30-year old fighter out of American Top Team Orlando is happy where the long road from Ft. Lauderdale to Central Florida has lead him.
Saunders will be fighting Douglas Lima on Friday in the Bellator Welterweight final, a rematch of a fight from 2011 which Saunders lost during the Season five Welterweight final.
"My game plan every time is win, lose or draw I'm coming to fight, I'm coming to scrap." said Saunders in a phone interview before Bellator 100. "You're not going to break my will, my will to fight is always going to be there."
A win in Friday's tournament final would give Saunders a shot at the Welterweight title belt, currently held by Ben Asken, as well as a big $100,000 check with his face on it. But Saunders wants to win the tournament for a different reason, he wants to cement his legacy.
"It'll mean the world to me. I'm fighting for my legacy right now," said Saunders about winning Friday's tournament final. "To be honest this is everything that I've ever trained my ass off for since I was a kid."
Saunders already has plans for what he would like to do with the $100,000, but first he must defeat Lima on Friday.
"My plan is to win this god damn tournament, open up my own academy and potentially, maybe start my own amateur show out in Orlando since there are none." added Saunders.
Killa B's journey to Bellator 100 hasn't been easy. Saunders grew up poor, having to work to pay for his martial arts training. He would walk three to four miles just to walk to the McDonalds where he worked on weekends so that he could train during the week.
After graduating high school Saunders convinced his father that he was going to go to Valencia Community College, now Valencia College, in Orlando to study, but his real plan was to move up to Central Florida to train with former UFC fighter Din Thomas.
"Valencia's the shit." said Saunders when happily representing his former college.
During his time in Central Florida Saunders worked many everyday jobs to pay for his training, working at Blockbuster, Fedex and as a carpenter before finding a job as a barback at Waitiki in downtown Orlando.
The job at Waitiki was something that Saunders helped "create" his career and "saved" his life, as the bar would allow him to work on a select few days and giving him off days when he had to go fight.
"This is not a journey that I believe a lot of people have taken." said Saunders.
Saunders has been active in martial arts since he was eight-years old and remembers watching the first UFC live on pay-per-view when he was 10.
"Since I was eight I've done martial arts, since I was 10 I saw the first UFC live on pay-per-view and knew that's what I wanted to do for a living." said Saunders. "Everything that I've done since then has been leading to this moment."
Saunders may have grown up in MMA talent-rich South Florida, but when he graduated high school in 2001 there were no MMA gyms in the area yet. So he hopped on the internet and started looking on MMA forums, trying to find one close to home. That's when he found United Champions and convinced his dad that he was moving to Orlando to attend Valencia College, very well knowing his real plan was to train with Din Thomas.
A year after Saunders first moved to Central Florida, Thomas was recruited by a gym down south and "Killa B" was left looking for a place to train, which lead to the opening of American Top Team Orlando.
"We ended up creating ATT Orlando," said Saunders about the process after Thomas moved down south. "I was one of the originators of ATT Orlando up here."
Saunders first got his big break Season six of The Ultimate Fighter when he was featured on Team Serra. He eventually defeated Dan Barrera during The Ultimate Fighter 6 finale and earning himself a spot in the UFC.
Killa B would go on to sport a 4-3 record in the UFC and was cut following a unanimous decision loss to Dennis Hallman at UFC 117. Saunders would then have one fight with World Extreme Fighting (WEF) in Kissimmee , where he defeated Elijah Harshbarger by submission in the first round.
Following his one WEF fight Saunders would go on to sign with Bellator, citing their tournament format as the reason he hopped on board.
"The biggest difference is hands down the tournament format, it's usually three fights in three months and that shit's hardcore," stated Saunders when contrasting Bellator to UFC. "That's the main reason I signed up with Bellator, being a fan of the old school MMA, old school UFC days."
Saunders is a fan of Bellator's tournament style, but he says he wouldn't recomend it to everyone.
"I'm definitely a fan, but I wouldn't recommend it." added Saunders of Bellator's tournament format.
The 30-year old says that this could very well be his last tournament, but if Saunders can defeat Lima and then win his title fight, he will not have to participate in next season' tournament since he would be the title holder.
Saunders also wishes he could fight in his home state of Florida more often, but says that the rise of the amateur circuit lead to the downfall of pro MMA in the state.
"I'm undefeated in Florida, I love fighting in Florida, Florida's freaking great," said Saunders when asked if he would fight in Florida again. "I can drive my own vehicle, I can take my Xbox in there and play 'Call of Duty' in the hotel room, it's freaking awesome.
"I would love to fight in Florida," added Saunders. "Unfortunately when amateur fights became big in Florida, the MMA scene got destroyed."
He has already mentioned that he hopes to open his own fight academy in Orlando following Bellator 100, but Saunders has also thought about starting his own amateur MMA promotion in Central Florida and if he wins on Friday he will have the money to at least try.
At the end of the day Ben Saunders has already had a distinguished MMA career, but winning Friday's Bellator Welterweight tournament final would be the icing on the cake for the 30-year old from Ft. Lauderdale.
"It's a crazy, crazy journey," said Saunders. "But I wouldn't change anything."