Edward Sharpe and the Magnetic Zeros set to hit Orlando
Courtesy of The Magnetic Zeros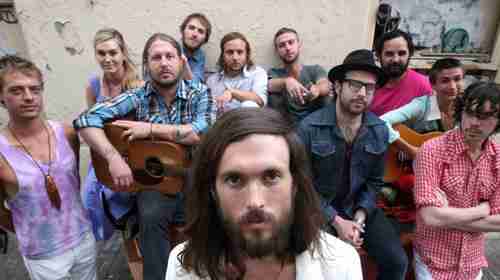 Edward Sharpe, a messianic alter ego created by former Ima Robot lead singer Alex Ebert, is an escape from his previous mantra of partying and living fast.
Part of an artistic collective called The Masses, created in part by seed money from Heath Ledger – Ebert hooked up with Jade Castrinos, and began making music and writing songs alongside a few other friends, leading to the creation of Edward Sharpe and the Magnetic Zeros.
Conjuring images and feelings from the hippie communes of the 60's, Edward Sharpe and the Magnetic Zeros are about love and the celebration of life.
Known for their interaction with an audience to create an experience more than just a concert, Edward Sharpe and the Magnetic Zeros will be making a stop in Orlando on Tuesday, Sept. 10 at the Hard Rock Live.
Best known for their song "Home" – which has gained mainstream success with the help of multiple covers on YouTube – this 10-plus ensemble has evolved their sound since releasing their freshman album, with each member finding their own voice — culminating into the more nuanced and relaxed sophomore album. Upon first listen – their current self-titled album sounds like a tent revival, with an energy that can barely be contained by speakers – however upon subsequent listens, you begin to hear all of the individual parts forming as a whole.
Doors open at 7 p.m., with the show starting promptly at 8 p.m. Tickets range from $27.50 – $53.10 and are still available via Ticketmaster.
Tickets will be sold at the venue the day of the event with price inflation.
The Magnetic Zeros will conclude their tour hosting the "Big Top" festival, a four-day event in Los Angeles, which will feature art and music in partnership with Live Nation.
 For more information regarding Edward Sharpe and the Magnetic Zeros, please visit the band's official website or follow them on Twitter.