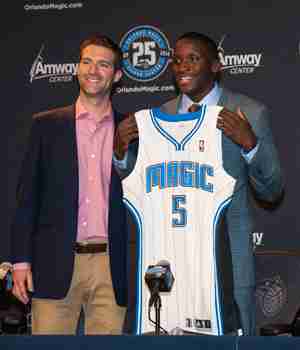 ORLANDO — A new journey is on the horizon for Victor Oladipo.
The former Indiana University guard was introduced to members of the press Friday afternoon after he was selected as the No. 2 draft pick in the 2013 NBA Draft, Thursday night.
"Nothing has been given to me since day one," said Oladipo. "I'm trying to be the best, it's cool when people compare me to other players in the league."
During his time with the Hoosiers, he averaged 13.6 points per game during his junior year which guided Indiana to a 29-7 overall record. The 21-year-old did mention that he's eager to be part of an organization that's hungry to compete for success.
"We're really excited to have Vic with us," said Magic general manager Rob Hennigan. "It's a very exciting day for the organization. Vic is someone we followed all season, and we really grew to respect what he's all about."
Hennigan did add that the Magic plans to be busy during free agency is less-than likely to be active during the off-season, but plans to keep Victor on the team despite rumors swirling that a trade was imminent.
News also surfaced during Friday's press conference, which saw Hennigan confirm that former University of Central Florida (UCF) forward Keith Clanton will be coming to the Orlando Magic summer league team.
Orlando also drafted Romero Osby with their second round pick. Osby played his college basketball at Oklahoma University, he averaged 16 points and 7 rebounds per game during his senior season in Norman, Okla.