Heat extend winning streak to 27 games in defeating Magic 108-94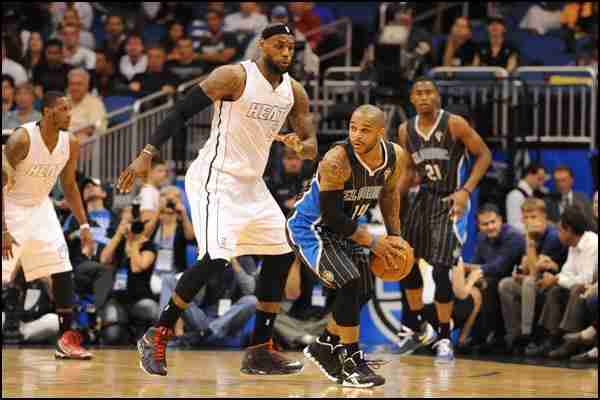 ORLANDO – Lebron James scored 24 points, grabbed nine rebounds and had 11 assists as the blazing Miami Heat extend their winning streak to 27 games as they defeated the Orlando Magic 108-94 Monday night at the Amway Center in Downtown Orlando.
The Heat (56-14) inched their way closer to the NBA record for consecutive victories of 33 held by the 1971-72 Lakers as they closed the third quarter on a 10-0 run, and extended it to a 23-2 run to get away from the Magic (18-53) with 9:32 still to play in the fourth quarter.
"We did enough late in the third quarter and fourth quarter. That was some of our best in the fourth quarter on both ends," said Miami Heat head coach Erik Spoelstra.
"Before that it was a little bit more of a sleepwalk to get to that point, but you have to credit that team. They came out with a fair amount of youth and speed as we anticipated. We've had three tough games against them."
After a tied first quarter, Miami outscored Orlando 27 points to 18 to take a 55-46 lead into halftime. In return the Magic would respond with a 22 point third quarter that would bring them within ten points but their spark would run out as they never got any closer to the Heat for the rest of regulation.
"Basketball is a game of mistakes, and when you make mistakes, they capitalize on them," said Magic point guard Jameer Nelson.
"They're a great team. They have a great coaching staff that puts those guys in great positions on both ends of the court. It's tough when you have a lot of shooters around LeBron and D-Wade when he plays. And you can't forget about Bosh, they have three guys who are legit All-Stars, Hall-of-Famers."
Nelson lead all Magic scorers with 27 points, and recorded a double-double with 12 assists and grabbed five rebounds. Tobias Harris would also put up 20 points to help the cause but Orlando would end up win-less against the defending champions in three meetings this season.
Miami made 15 three pointers compared to Orlando's nine. Mario Chalmers had four three pointers of his own as he added 17 points, as well as Ray Allen who hit four of his own and had 12 points which were set up by James.
"The success of my teammates is what motivates me every night, for me passing the ball and seeing my teammates score is what it is all about for me," said Miami Heat forward James.
"That was one part of our offense actually that was fluid was getting to our spacing, and then guys finding the shooters," said Spoelstra.
Magic guard Arron Afflalo was out for the game and the rest of season due to a right hamstring tear, and Nickola Vucevic is out with a concussion. As for Miami, Dwayne Wade sat out as well with a sore right knee and is listed day-to-day.
A trio of milestones were reached for two players. Jameer Nelson surpassed the 3,000 career assist mark in the first quarter, and Mario Chalmers as he passed 3,000 career points at the half. Erik Spoelstra became the fastest Miami Heat coach to earn 250 wins in franchise history.
After the victory, Miami is now six games shy of tying the NBA record for consecutive games won and are also 12-1 on back-to-back games this season. They will go on to face the Chicago Bulls on Wednesday, March 27 at the United Center in Chicago. As for the Magic, they will play the Charlotte Bobcats the same day on the road.