Unknown minor injury doesn't interrupt Bill Haas prior to Bay Hill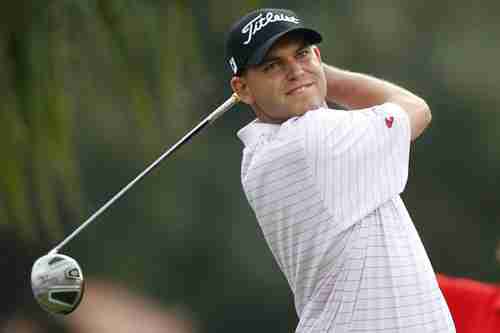 ORLANDO – Up until round three of the Arnold Palmer Invitational one would have never guessed that Bill Haas injured his neck last week in his Los Angeles home as he reached down to pick up a towel .
Haas who was tied for the lead after shooting 6-under 66, in a bogey free second round Friday, and  3-under 69 on Thursday has now dropped down to T5 on the leader board after shooting 1-over 73 this afternoon bringing his total score to 8-under 208 going into the final round tomorrow.
"When you're playing poorly, it hurts, when you're playing well, it doesn't hurt," stated Haas yesterday.  "I haven't changed my swing, it may have changed because of it on accident however it's not so bad that I can't play.
While Haas has sat out the previous week he stated he would not miss this event, making this his sixth consecutive start at the Arnold Palmer Invitational.
"This is one I scheduled at the beginning of the year.  I just know I'm going to play mainly because Mr. Palmer always gives the guys a sponsor start here when you first get on TOUR," explained Haas who given the chance to play back in when he was a rookie.
"He's always been great to me. I always planned on coming," added Haas who attended Wake Forest College on an Arnold Palmer Scholarship.
While Haas was cooling down posting two double bogeys, and one bogey, new leader Tiger Woods posted a key Eagle on hole-16 for a 6-under 66 for the day putting his score for the first three rounds at 11-under 75 giving him a favorable chance of winning his eight Arnold Palmer Invitational to tie Sam Snead's record for most wins in a single event.
"I saw [Justin Ross] was 4‑under early, and I saw that Billy got it going early as well. I felt like the scores were out there," explained Woods.  "It's one of those courses where I think the par‑5s were playing reachable. You can get it going, but also you can get it going the other way pretty quickly as well."
"I was just trying to make sure I didn't drop any shots today. I thought that was important to try to chase down the lead. I was 4‑back starting out date. I only dropped one shot today, but made my share of birdies," said Woods in reference to his game.  I hit a lot of good putts, especially when the wind started blowing. I was able to still hit the putts flush even though the wind was moving me around a little bit; it still was good," he added
Haas also trails Rickey Fowler, John Huh and Justin Rose who are all at 9-under 207 going into the final round.  With the same score (-8) as four other players Haas will have to come out swinging.
Following his final round tomorrow which is set to tee off at 1PM Haas will be playing in the Tavistock Cup along his dad.
"Lots of fun golf here trying to get prepared for Augusta," concluded Haas.