Solar Bears shutout Road Warriors 4-0, return home from road trip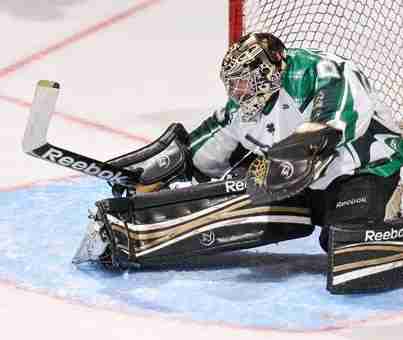 ORLANDO – Rob Mignardi had two goals on three shots as the Orlando Solar Bears defeated the Greenville Road Warriors 4-0 on March, 20 in front of 5171 fans at the Amway Center.
Patrick Killeen had the second shutout of the season in goals for Orlando, saving 43 out of 43 shots throughout the game.
"I thought he was awesome," said Solar Bears head coach Drake Berehowsky. "It was great to have great goaltending. To have a good team you have to have great goaltending and he certainly played well tonight."
The Solar Bears got on the board early when Mignardi gave Orlando an early 1-0 lead when he scored his 10th goal of the season on a pass from Derrick Martin with 18:44 remaining in the first period.
"Migs has been huge for us all year," said Berehowsky on Mignardi's early goal. "And to see him score right off the bat, it's great. I think it puts the guys at ease."
Orlando took a 2-0 lead over Greenville with 14:06 left to play in the first, when Mignardi scored his second goal of the game.
"You definitely want to get the lead early and just get that confidence," said Mignardi about his two first period goals. "To score on my first shift definitely gives our line and the team confidence."
Ryan Berard gave the Solar Bears a 3-0 lead with 3:59 remaining in the second period when he scored a shorthanded goal for Orlando thanks to another assist by Martin.
Orlando extended its lead to 4-0 when Michael Wilson scored his sixth goal of the season with 1:26 left to play in the second stanza.
The Solar Bears entered the third period leading the Road Warriors 4-0 despite being outshot 26-23 by Greenville. The 4-0 lead would be enough for Orlando as they would go on to complete the shutout win with a scoreless final period.
"This one's up there," said Killeen on where Wednesday's performance ranked out of his six career shutouts. "I was getting a little worried I wasn't going to get one this year so it feels pretty good."
With the win the Solar Bears improve their record to 27-33-3-3 on the season and 19-9-1-3 at home.
Orlando will face off against Greenville for the final game of the season series at 7:00 p.m. on Thursday, March 21 at the Amway Center.