Rockets edge out Magic 118-110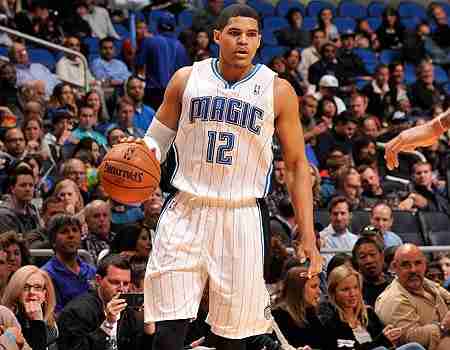 ORLANDO – Tobias Harris had a double-double and a career high 27 points and ten rebounds but it couldn't secure the win as the Houston Rockets defeated the Orlando Magic 118-110 Friday night Mar. 1 at the Amway Center.
Harris in his first four games with the Magic since the J.J. Redick trade at the NBA trade deadline has now scored in double digits in each of his four appearances and has consecutive 20 point games.
"The main thing is that we were out there tonight," said Harris on the teams performance. We played a heck of a game, brought a lot of energy, and battled to the end of the game, it shows as a team that were making steps, Houston great team, competitive team, if we just keep building on this it will be good for us."
The Rockets (32-28) would commence the game on a 7-0 run, but the Magic (16-43) battled back to end the first quarter on top 32-21. Both teams scored more than 60 points before halftime and shot over 50% from the field, but quarter by quarter the Magic were scoring less and allowing Houston to maintain the lead.
"I think for the most part tonight the schemes that we put together tonight gave us a chance to win," said Magic head coach Jacque Vaughn.
"This is a high volume shooting team. We wanted to take away the ability to shoot the trey. We couldn't give them everything so if you see a Jeremy Lin layup or a Patrick Beverley floater, some of that was a design. I felt overall our attention to detail was there tonight."
James Harden lead his Rockets team with 24 points and was 10 of 11 from the free throw line. Harden scored 11 points in the fourth quarter to edge out Orlando, and knocked clutch free throws to add insurance to the team's total.
Teammates Chandler Parsons and Carlos Delfino each added 21 points. The Central Florida native Parsons, whom shot three of seven from the three point line was making his NBA debut in playing back in his home town since joining the league.
Down the stretch Houston's Patrick Beverley hit a couple of three-pointers that assisted towards the victory.
"He (Beverly) made big shots," said Harden. "He came in with the defensive energy and pressured the ball full court. He made big threes and floaters and good plays. Defensively and offensively he played phenomenal."
The Rockets move ahead three games ahead of the Los Angeles Lakers for the eighth spot for the playoffs as they snap their two game losing streak. As for the Magic, they loss their second consecutive game and now remain the second to last team in the Eastern Conference.
The Magic will play their next game at home against the Memphis Grizzlies on Mar. 3 at the Amway Center at 6 p.m.