Gators disappoint Knights with second home loss 5-3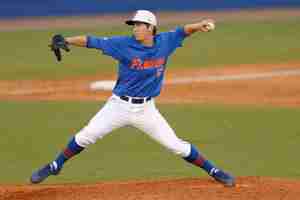 ORLANDO – Zack Powers went 3-for-4 with a home run, three hits, and two runs scored as the University of Florida Gators defeated the University of Central Florida Knights 5-3 on Tuesday night, Feb. 19 at Jay Bergman Field with an attendance record of 3,678 fans.
The Gators (3-1) would strike immediately on the Knights (2-2) scoring in the first and second inning off of a Vickash Ramjit solo homerun to left center field and a Zack Powers two RBI homerun to right field, and would never look back as they held the lead throughout the duration of the game.
"Anytime you can win on the road you gotta feel good about it," said UF head coach Kevin O' Sullivan when asked about his teams performance.
"I think where we are at as a team we know we have a lot to work on going on the road for the first time, and played fairly cleanly but we got a lot of young players, a lot of freshman and guys that didn't play every day last year so all in all I'm pleased with how they played tonight."
Both the Gators and Knights have started their season taking two-of-three games in the opening weekend series. UF defeating Duke, and UCF defeating Siena. The Gators earned their first road win of the season as UCF received their second home loss.
UCF pitcher Brian Adkins made his second-career start against UF, pitching 5 2/3 of an inning, allowing three runs, and ten hits to receive his first loss of the season.
"I thought Brian Adkins did a fantastic job today, He did a great job of pitching," said UCF head coach Terry Rooney on his starting pitchers performance.
UF's Parker Danciu earned his second win of the season allowing five hits and two runs replacing starting pitcher Keenan Kish that only pitched two innings despite never allowing a run.
"The University of Florida played better than us," said Rooney. "In order for us to be a great team we have to play fundamentally sound and Florida played a little bit better than us and made a few more plays, and few more clutch hits."
Through the first three innings the Gators were on top of the Knights 3-0, and would remain the same until the sixth inning. The Gators would tag on two more runs as infielder Harrison Bader reached on an error at first base which allowed two runners to score to make the score 5-2.
The Knights were scoreless up to the bottom of the sixth inning where they would put up their first run of the game off a James Vasquez home run to right field, and would add another run off of shortstop Tommy Williams RBI single.
The game would come within two runs when UF pitcher Daniel Gibson threw a pass ball that catcher Taylor Gushue loss track of to allow Erik Hempe to advance to third base. UCF third baseman Chris Taladay would hit a sacrifice ground ball to score Hempe, and bring the score within two.
Although a late push towards the end of the game, Gators closer Johnny Magliozzi came in the eighth inning and pitched to the final out to close out the game and earn his second save.
"It was a great win on the road, it was our first off road win," said UF shortstop Richie Martin. "It was great to get a good team win and disappoint the UCF fans."
UF will remain on the road, as UCF will face off against Connecticut in their next home game Friday, Feb. 22 at Jay Bergman Field.