Osceola County Fair dazzles, literal cheap thrills abound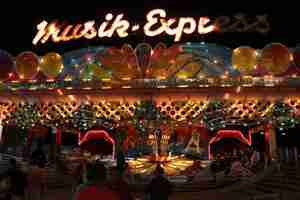 KISSIMMEE — The Kissimmee Valley Livestock Show is proud to announce that the 69th Annual Osceola County Fair is taking place from Feb. 8 – 17. The fair theme "Biggest Bang for Your Buck" reflects the entertainment value offered with the fair's touted affordable admission price of $5.00.
"I like coming to the fair see the all people, the rides and the best part is the food and I like working the fair to just see everyone having a good time," said Jake Boals, who helps his cousin run her travelling sunglass selling business. His cousin has owned the business 12 years and he has been helping her for three years.
The fair started in the early 1940s. It was first called the "Kissimmee Valley Range Cattle Show"  then later changed its name to the "Kissimmee Valley Livestock Show." Then, in 1951 it changed its name to the "Kissimmee Valley Livestock Show and Fair."
"Well, yesterday it started and today it has been pretty steady, next week will probably be the busiest because it is 'rodeo day' with livestock and live animals," said Raymond Sanchez, an employee of Orange Blossom Lodge.
Last year was his first working the fair and this is his second. He works for Orange Blossom Lodge, the company who has managed ticketing for the fair for last decade.
New to the entertainment lineup this year is the "Dare Devil's Wall of Death," where motorcycle stunt riders perform various tricks on the wall of a huge circular bowl.
Also among the free daily entertainment are "Allen's Original Redwood Log House," the "Great Little Bear Show," Eudora Farm's exotic petting zoo and "Sylvia's Magic Trunk," to name a few.
Strates Shows, the Fair's midway partner, is bringing all the popular rides, including the "Kamikaze," the "Wild River Flume Ride," "Top Spin," the "Fireball" and the "Himalaya," to name a few.
There are so many more literal rides along for the ride as well. There are rides for all ages and of various intensity. There is also a separate "Kiddieland" section that will be available for the little children to play in.. All in all, the fair will feature over 80 rides, games and shows for people to come bring their kids and let them have fun for a day at the Osceola fair.
The Osceola County Fair is located at Osceola Heritage Park, one mile west of the Florida turnpike exit 244 on Highway 192 in Kissimmee. Admission is only $5 for adults, $3 for Seniors (60 +) & Children (5 – 11) and kids 4 and under are free of charge.