Knights defeated by Hurricanes, snap three game win streak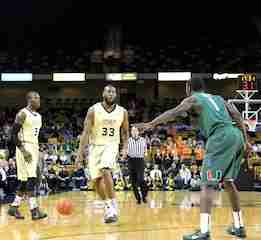 ORLANDO — Knights' senior Keith Clanton scored 15 points, but it wasn't enough as the University of Miami Hurricanes defeated the University of Central Florida Knights 72-50, Tuesday night.
Approximately 5,189 fans packed the UCF Arena as the Knights looked to add another win to their three-game winning streak. They had difficulty with size advantage as Miami began the first half on a 9-2 run, shooting 48 percent throughout the game.
"I feel like I could have still done better," said Clanton. "We just didn't play. In the first couple minutes of the second half we played with energy, then they punched us back in the face. We didn't respond."
Clanton had trouble posting up with Miami's big man Reggie Johnson, converting five turnovers in the game.
Daiquan Walker shot back-to-back three pointers later in the second half, cutting a 20-point lead to 10. Miami responded with an attack of their own and brought the lead back up to 22 to end the game.
"Our guys did let the offense come to them, we got frustrated and tried to do it ourselves to get back in the game," UCF head coach Donnie Jones told reporters after the game. "We just didn't get in the flow, but I thought Miami played a very good game."
Keith Clanton, who returns from a career-high 30 points against Bethune Cookman, was selected earlier this week as Conference USA preseason player of the year.
Miami's fast-pace movements proved too much for UCF, causing six fast break points for the Hurricanes and making 34 points in the paint, leaving the Knights to respond with 22 points.
The Knights entered the second half scoring 40 percent in the field, which was an improvement over the 30 percent in the first half.
Isaiah Sykes, who Jones believed he played for too long, finished off with nine points.
"We got to continue to compete," said Jones. "I wanted to play zone, but I didn't feel like we were playing with enough energy."
The Knights look to rebound from the loss when they host Stetson on Thursday at 7 p.m.