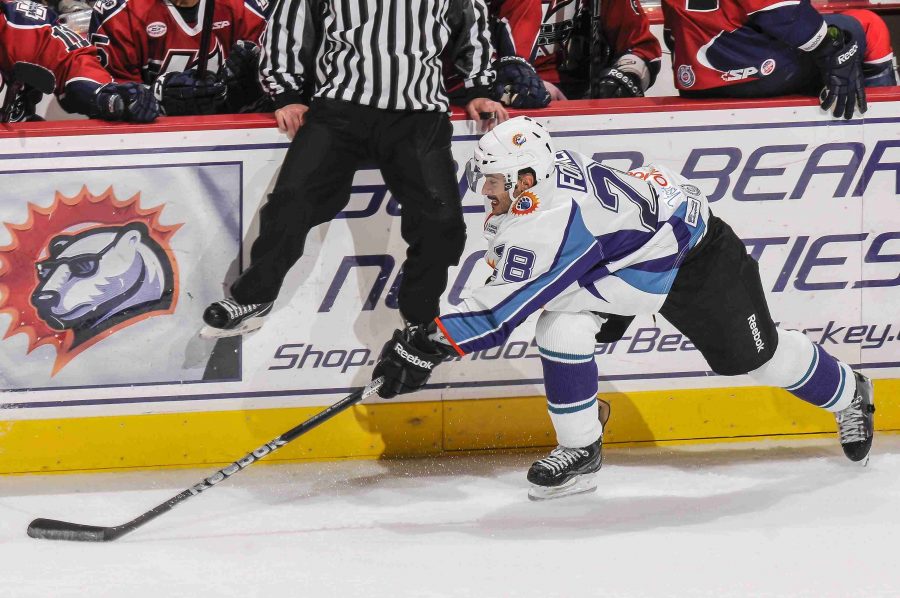 Fernando Medina/OSB
ORLANDO — Olivier Fortier scored two goals as the Orlando Solar Bears defeated the Kalamazoo Wings 2-1, Sunday night at the Amway center.
This is Fortier's second consecutive game scoring two goals against Kalamazoo in this three game set.
"We came out today and I thought they got the jump on us," said Solar Bears head coach Drake Berehowsky.
"We came back, we battled hard, we were down on shots but by the end of the period we took control of the lead."
The Solar Bears had plenty of contribution from goalkeeper Hannu Toivonen and the newly traded Chris Lawrence.
Toivonen had his first start at goal, and nearly facilitated a shut out, but a late third-period goal gave the Wings their only point.
"It feels good, get that first win out the way and help the team get as many wins as possible whenever I get the chance to play," said Toivonen.
"It was fun being out there and being able to get the win on home ice."
Berehowsky rotated his set of goalkeepers and gave Toivonen the start tonight.
"He's a solid big goalie, he's quick across the bottom of the net, and takes away time and space from players. His confidence is growing game by game."
Lawrence also started his Solar Bears career on a positive note after coming in from the San Francisco Bulls in a trade. He has recorded back-to-back games with two plus assists.
After holding the lead for the first and second period, Kalamazoo scored their only goal of the game from Dustin Cloutier late in the third period, attempting to send the game into overtime but Orlando held off further threats.
The Solar Bears cap off their last game of the three game series against Kalamazoo on Tuesday Nov. 20.