President Obama visits Orlando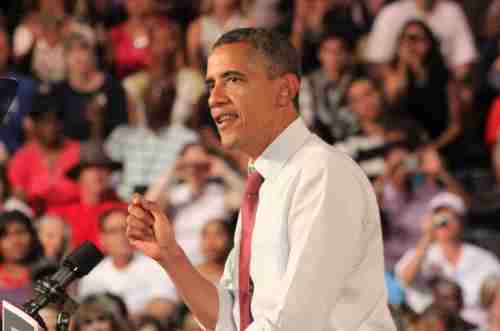 President Obama's postponed trip to Winter Park got back on the rails Thursday, as 2,400 supporters from the swing state community attended his rally at Rollins College.
Addressing grassroots supporters, the president focused primarily on one topic — taxes, and the "two different visions" which he and presidential contender Mitt Romney represent on the issue.
"This is not just a choice between two candidates or two political parties," the president said. "This is about two fundamentally different visions for America."
Obama said that raising taxes on the upper class will prevent cuts from education, also noting that since in office, he's cut $3,600 worth of taxes for the typical family.
Romney's plan was analyzed by an economist from the Bush Administration, who said that those who make more than $3 million a year will get a tax cut of almost a quarter of a million dollars. As a result of that, said the president, a total of 125 middle class families per millionaire getting that cut will have a tax increase of more than $2,000.
Romney team's response to the analysis was that it "Failed to fully take into account the massive economic boost that will come to cutting taxes."
Obama then called the trickle down theory, "trickle down, tax cut fairy dust," and said, "We will not tolerate that anymore."
President Obama also said that the 98 percent of Americans who make less than $250,000 annually will not have their taxes raised in the next term.
"All we're asking is that they contribute a little more," Obama said of those in the highest income brackets, noting that electing Romney will bring back the "same issues we had in the past," specifically from the terms of former President George W. Bush. Like Bush, Obama said, Romney will cut taxes for "people who don't need it."
Due to the Colorado massacre two weeks ago, Obama originally cancelled his event in Winter Park out of respect for the families that lost loved ones in the theater shooting.
The Obama For America (OFA) press office of Florida organized the event, and even rented out the venue from Rollins College. The Alfond Sports Center was quite small, much smaller than the event for Michelle Obama held at University of Central Florida's The Venue.
Waiting since the morning, local paramedics had their hands full with countless attendees fainting or dehydrated in the 90 degree weather. Organizers passed out water bottles to those waiting outside.
Much like Michelle Obama's event, the crowd continuously chanted "Four more years" throughout the event. Signs filled the venue with one word as the central theme of President Obama's campaign: "Forward."
Ramon Degrassi introduced the Pledge of Allegiance and Obica Lewis sang the Star Spangled Banner. There was also a sign language translator there during the entire event.
Pastor Wesley Letter said a prayer, and a few others talked before the president's appearance, such as Joel Bridgeman, Regional Field Director for Organizing for America in Orange and Seminole Counties, and Florida Rep. Darren Soto.
Soto pumped up the crowd with all types of phrases, like: "If you believe, let me hear you say,  'Yes we can!'" and "Where are we gonna go?" whereby the audience responded, "Forward!"
Once President Obama was on stage he talked about a few light topics first. After announcing his upcoming birthday (August 4th) the crowd proceeded to sing "Happy Birthday" to him. Obama also mentioned the 2012 Olympics, and even spoke about his confusion with gymnastics.
"We're here to build an economy, where work pays off," Obama said at the height of his speech. "So that no matter who you are or what you look like, where you come from or what your last name is, here in America you can make it if you try."