Transgender Day of Visibility Offers Little Solace for Some Valencia Students
On Transgender Day of Visibility, we want you to know that we see you just as you are:

Made in the image of God and deserving of dignity, respect, and support.

We'll never stop working to create a world where you won't have to be brave just to be yourself. pic.twitter.com/g5TTZbv1UW

— President Biden (@POTUS) March 31, 2023
On March 31, President Joe Biden recognized International Transgender Day of Visibility through Twitter. In a March 30 Proclamation, Biden wrote, "Today, we show millions of transgender and nonbinary Americans that we see them, they belong, and they should be treated with dignity and respect. "
The motion to honor and recognize the often marginalized transgender community comes on the heels of continued pressure by politicians such as Florida State Governor Ron DeSantis, who continues his position to remove access to gender reaffirming care for trans youth. There have been over 150 bills introduced in the U.S. targeting transgender people, many of the laws focus on youth and access to hormone blockers, procedures and over-the-counter medications. On March 30, Rep. Marjorie Taylor Greene saw an account suspension on Twitter for sharing "Trans Day of Vengeance" rally information in a since deleted tweet. Twitter banned the account on the basis of promoting the rally, to which Greene objects.
Media has also played a role in negative feedback in the recent Nashville shooter's identity being transgender as a focus of conversation in every news outlet. Outside of misgendering of the individual, heavy publicity has centered on the mental health and hormonal therapy of the shooter to justify decisions as part of the shooter's mental illness. With less than a handful of all school shooters identifying as transgender, the argument of an increase in transgender school shootings is not based on fact and creates unnecessary fear aimed at the trans community.
Several Valencia College students discussed the move by the Florida's governor, media and the struggles to maintain their identities in the changing political landscape with initiatives like ending educational diversity, equity and inclusion.
Emma Rose Willin, 26, is pursuing becoming a licensed clinical social worker. Willin says, "Given what has happened today in Tennessee it is clear, as has been made clear over decades of violence that these senators prerogative is not to 'protect children' but to push their beliefs, and dogmatic views onto the states the govern."
"It really sucks… I'm just starting. Before I finally admitted this to myself I was suicidal; I attempted a couple of  times… I was miserable and loved the people around me and hated myself. The way this is politicized is a clear attack on the trans community, as well as other members of the LGBTQ+ movement, "explains Willin. "It is a call to action by a man who knows nothing of the issue and consults with others in the same headspace. If I don't transition; I die. That is the point I have come to in my life. I have abused my body throughout my entire life, and finally starting to care about it since I'm transitioning. The narrative being pushed is a narrative of fear, and disgust. We're not a talking point, we're not evil, we are human and in pain."
Rose Hatch, 20, General Studies, expressed concerns for family. "My non-binary sibling just started taking estrogen at age 25. Thankfully they live in a blue state where they are more accepted, although I still experience worry for their future and safety, "says Hatch. "I am afraid that what DeSantis is trying to do will scatter into other red states that will take inspiration. My sibling wants to expand their career in Material Science Engineering and work with objects that go into space. Unfortunately, some companies such as NASA are located in area where trans people are at high risk of discrimination. I am heartbroken that the LGBTQ+ community has to fight just to be able to live a normal and safe life.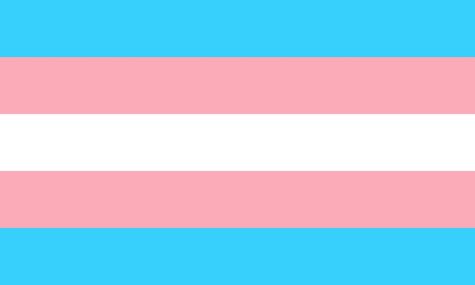 Jade Quinones, 20, Film Production, says, "This is my fifth semester at Valencia, and hopefully I'll be able to graduate within the next year. My background is a bit complicated, but I believe everyone's is anyhow. I was born here in Central Florida into a Christian household, split mostly between my Catholic Puerto Rican relatives and my Protestant white relatives. As any mixed family, the meshing of cultures made my childhood very open to seeing the lifestyles of other people, which is something I have come to appreciate more and more the older I get. However, being born as part of a Christian household meant that I was expected to attend religious services, and fall in line with my peers in Catholic private school, something which I struggled with especially during high school. Being a part of Catholic education, as much as I may hate to admit it, did influence my perspective."
Quinones clarified, "However, I wouldn't say it was all in the favor of my school's teachings. I think in a very roundabout way, it taught me how people were in the real world. The opposition towards people like me in the LGBT+ community, namely, was fairly evident in my school. Administration would target gay couples and purposefully separate their classes, while students would bully their LGBT peers, and there were almost no opportunities for those stuck in the closet to come out. It was suffocating, to say the very least."
"When it comes to this legislation, like the 'Don't Say Gay' bill and its expansionary bill, it makes me upset that no one really sees the big issue: Our leaders don't want to draw a line. Even as it stands today, the LGBT community is hardly ever talked about in regards to education, and this bill sets a dangerous precedent that allows for the government to simply erase the LGBT presence in education even up towards the college level."
"Where would it even stop, I wonder? People in our state already view us negatively because of misinformation, and it's even worse in far more conservative states. They even want to bring back the anti-sodomy laws in several of those states, bringing us back decades. These laws won't fix anything in our education system, only perpetuate hostility against us."
On this Day of Trans Visibility, students offer that the easiest way to beat misinformation is spend the time away from a computer or smartphone and spend it talking to a transgender student or group.