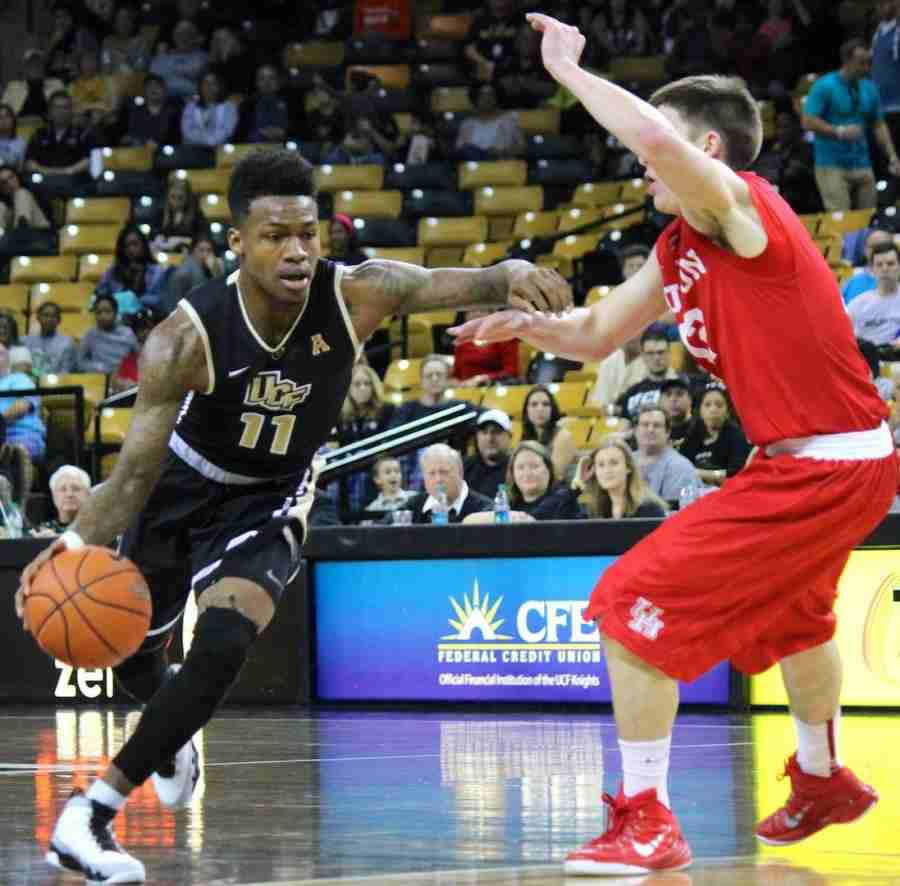 Danny Morales / Valencia Voice
ORLANDO — B.J. Taylor hit the game-winning shot during the final seconds of the game to help the UCF Knights defeat the Houston Cougars 56-54 at the CFE Arena on Sunday.
Taylor hit the game-winning layup with 2.8 seconds remaining in the game, after having scored just three points on 1-7 shooting before the Knights' final possession.
"I think he's a great one-on-one player getting to the rim," said UCF head coach Donnie Jones about giving Taylor the final shot. "But I felt that he's strong, I think he can get fouled, he's got the knack to get fouled as well, so I really just felt he's probably our best scorer on our team if someone has to create a shot for us,
"So I just put it in his hands and let him make a play."
UCF opened up the game with Staphon Blair attacking inside as he scored six of the Knights' first 11 points, but Houston would put together a 8-0 run to take a 17-11 lead midway through the first half. UCF would come back and cut Houston's lead to 33-32 going into halftime as the Knights shot 52 percent from the floor.
The Knights and Cougars went back-and-forth for much of the second half as the game was tied 54-54 with 2:26 remaining in regulation. Neither team would score for the next 2:23 as Houston turned the ball over twice during the final two minutes and never managed to get another shot off.
Taylor's game-winner came after Wes Vanbeck turned the ball over for the Cougars, giving the Knights the ball with 0:32 left on the clock.
"That was a grind out game, I thought the defensive possession before that we played with great intensity," said Jones after the game. "Got that stop, gave us a chance again, after making a turnover before that, to win the game and I'm really proud of how our young guys hung in there with some poise."
UCF had three players with double-digit points on Sunday with Blair going for 14 along with Brandon Goodwin and Kasey Wilson scored 13 points of his own in his second game back since sustaining a concussion.
"These last two games have been a huge lift for us having his play the way he's been playing." said Jones about his senior forward.
With the win UCF's record improves to 11-13 for the season and 4-9 in American Athletic Conference play. The Knights now sit one game behind Tulane and East Carolina for the seventh seed in the AAC with five games remaining in the regular season.
UCF's next game will be at Tulane on Thursday, Feb. 19 at 7 p.m. The Knights' went to triple overtime at home last time they played the Green Wave, winning 103-100.