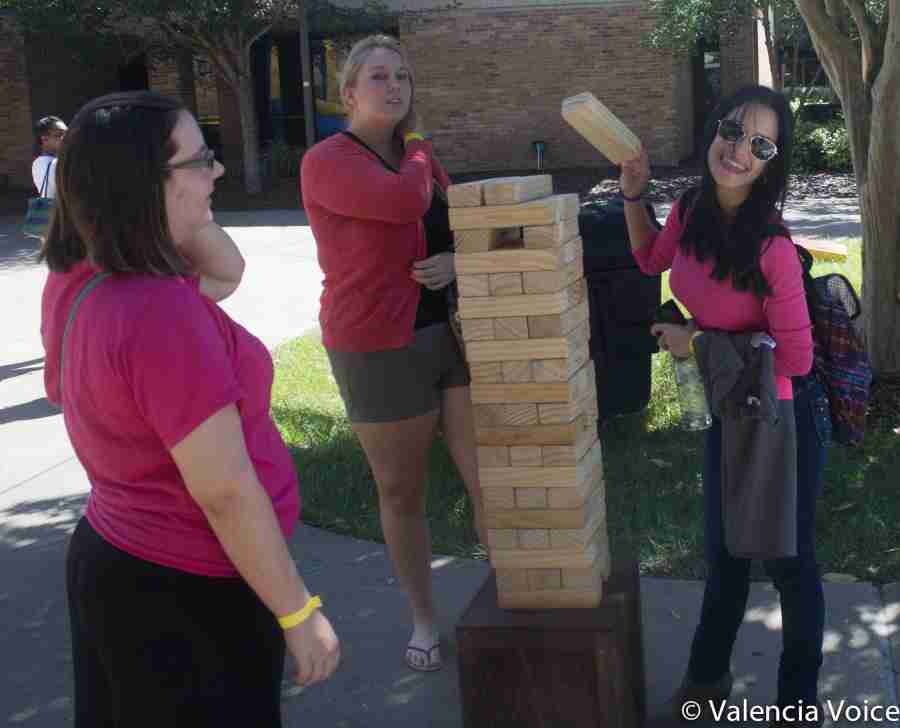 There is nothing that attracts college students more than the word "free."
Student Development on the West Campus hosted "The Game of Life: Valencia Spirit Day 2014" on the SSB Patio Thursday afternoon, and gave away a ton of freebies to Valencia College students: food, beverages, t-shirts, jewelery, metal photo frames and more.
In addition to all the freebies, students were able to unwind and participate in various actives including basketball shootouts, Foosball, life-size checkers, Bell-and-Hammer, and a giant inflatable Twister game. Music was provided by Orlando's own DJ ET.
Other clubs at the event included the Wellness ambassadors. At the table, students were given two crackers, a packet of peanut butter and a packet of jelly, and were told to make a sandwich as fast as they could, blindfolded. The task was to help students understand that sometimes we take for granted some of the senses and recourses that we have available to us that those with disabilities do not have the opportunity to use.
Amongst the list of outside vendors at the event, included new business It's A Trap — a live action Escape the Room game with a geek twist. Scheduled to open Oct. 22 in the Winter Park area; up to eight participants are put into a fully themed room and is given one hour to collaboratively scavenge for clues and solve puzzles in order to escape. Valencia students were able to try out the companies three-minute demo (which I was able to complete, once the time had already ran out.)