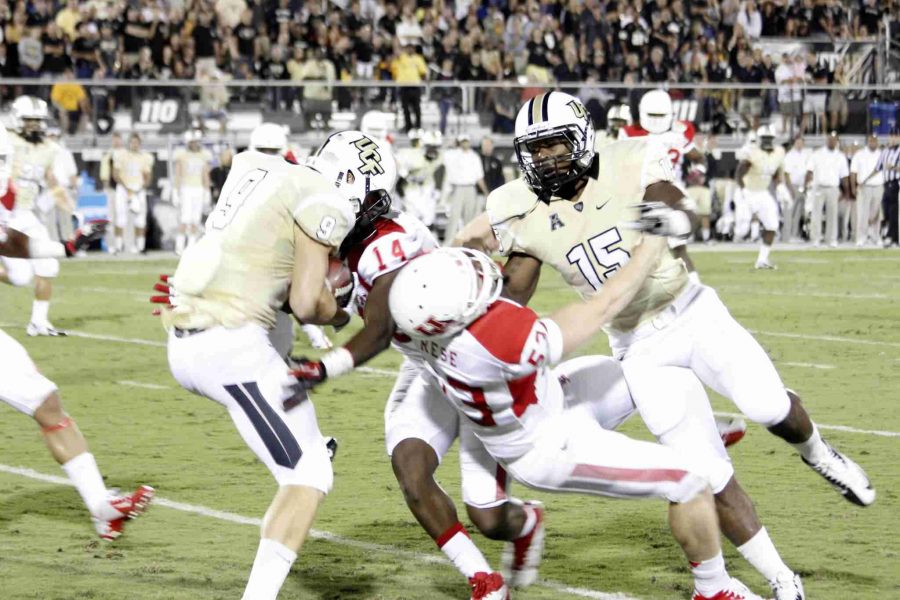 James Tutten / Valencia Voice
In a battle of two teams that controlled their own destinies in the American Athletic Conference, the UCF Knights defeated the Houston Cougars 19-14 Saturday night in front of a sellout crowd at Bright House Networks Stadium.
UCF safety Brandon Alexander tipped Houston (7-2, 4-1) quarterback John O'Korn's fourth and goal throw with 14 seconds remaining to secure the win, which continues the Knights (7-1, 4-0) on the path towards the American Athletic Conference title, and ultimately a shot at a BCS bowl game.
"It feels good, you can't win big every game. Sometimes it comes down to the last play, and thats what happened today," said Alexander.
Early on it looked as if UCF's offense would have an easy time putting points on the board but turned the ball over three times, including twice in the redzone. In stepped the Black and Gold defense to put on their best performance of the season to carry the team to a win.
"I thought defensively to hold that team to 14 points, and to have a great play at the end of the game to save the win, that is a big time team win," said UCF head coach George O'Leary.
"You can't turn the ball over three times; twice in the red zone. They hurt tremendously as far as getting points on the board." added O'Leary.
The Knights took a 6-0 lead into the half behind kicks off 45, and 40 by junior Shawn Moffitt as the offense struggled to get in the endzone. The defense held the Cougar offense scoreless in the first half, breaking a streak of 39 consecutive quarters that Houston had scored.
"We were killing ourselves early," said quarterback Blake Bortles on the offensive production. "You can't say enough about our defense though, they played awesome all night," said Bortles.
UCF used a heavy ground attack in the second half to wear down the opposition. Running backs Storm Johnson and William Stanback combined for 188 yards, and Stanback's two scores were enough for the victory.
Houston gave the rowdy and emotional crowd quite a ride for 60 minutes, as they had a chance for victory in the final seconds. The Cougars were first and goal with under a minute but the Knight defense stepped up play after play to ultimately secure the win with a fourth down stop.
"I've been around football a long time and it doesn't get any closer than that. You've got to make a play, and we made a play on defense," said O'Leary
With the win, UCF is now the last unbeaten team in conference play at 4-0, and continues to write their own ticket towards a major bowl appearance.
UCF will travel to Philadelphia for their next game against Temple, before coming back to take on Rutgers Nov. 21 at Bright House Networks Stadium.