Bring in the fall, Winter Park Art Festival celebrates 40th anniversary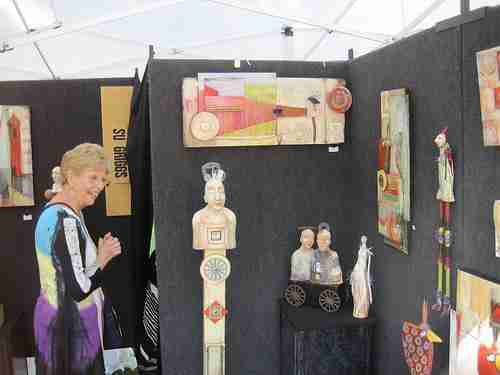 WINTER PARK — The Winter Park Autumn Art Festival celebrated its 40th anniversary with artwork from some of Florida's outstanding artists this past weekend Oct. 12-13.
156 artists were selected to display their works in eight different categories including ceramics, drawings and graphics, fiber, fine crafts, jewelry, painting, photography and sculpture.
The festival was held in Central Park located on Park Avenue in downtown Winter Park.
"I've been coming here for 40 years, you cant beat Park Avenue," said Phil Parker, 2012 best of show winner.
Each year upwards of 200,000 people will take in fine art, live entertainment, food, children's activities and the fine shops of Park Ave. The festival is the only juried art show to feature Florida artists exclusively.
"It puts us out here in front of the public so we get good feedback from the people," said Su Griggs Allen, the 2012 award winner. "Artists are usually just in their studio working in their little worlds, so its great that the community will come out to support the arts."
The Winter Park festival, and shows of these kind are some of the best chances for artists to not only showcase but to sell their various artworks to a mass audience of people.
"We were looking for some paintings to fill up a wall in our house, so it was nice to find some good pieces," said Orlando resident Dave Helsel.
This year festival judges awarded over $16,000 in prize money, which is another added bonus for the artists.
"I got some nice little reward money last year which gave me a little more free time to stay in my studio," added Allen.
Children were able to take place in art workshops presented by the Crealde School of Art here in Winter Park.
There was entertainment for all ages with musical performances ranging from classical and orchestral to jazz, country, and rock-n-roll groups, along with plenty of food and drinks from some of the areas top vendors.
For more information on the Winter Park Autumn Art Festival visit www.winterpark.org/content/winter-park-autumn-art-festival